nown as "The Billion Dollar Broker™", a name she has trademarked, Carol has personally sold over one billion dollars in residential real estate, and has been New York's top independent residential broker for over two decades. The reigning Queen of flipping properties in all price ranges, Carol was recently awarded a coveted Real Estate Board of New York's Residential Sales Deal of the Year Award for one of her extraordinary flips. With her experience, intellect, work ethic, tenacity and passion for real estate, she has built a reputation as an expert in assisting all of her clients achieve their real estate goals, while also exceeding their expectations.
Rated in the top 1% of brokers nationwide, Carol is not only the go-to expert in the sale of multi-million dollar residences to celebrities, CEOs, and billionaires, she will also help their children find a great studio or one-bedroom apartment. With over sixty closings each year, she is a highly sought-after speaker and expert commentator for the international media, including television, magazines, web, and is often quoted on market conditions and forecasts by respected publications such as the New York Times, the Wall Street Journal, the New York Post, the Real Deal, New York Magazine, and frequently authors articles regarding all aspects of the real estate market. Carol also has the honor of being the only independent broker to be featured as New York's Premier Independent Broker on the cover of The Mann Report, one of New York City's leading real estate magazines.
Unlike any other broker in the industry, Carol is the master of transforming properties, which is why she is proud to be trademarked as "The Makeover Maven™" of real estate. As an exceptional artist and visionary, she is unrivaled at "making over" properties and increasing the values beyond her clients' wildest expectations! Whether the improvement involves a minor staging or a major renovation, Carol is the WHOLE package – she provides her clients with her unparalleled skills as an artist, visionary, interior and exterior designer, architect, renovator, construction manager, stager, marketer, negotiator, expeditor, and client's representative. Carol will roll up her sleeves and don a hard hat to knock down walls, paint, re-grout, tile, clean, de-clutter, stage properties, landscape a terrace, and whatever it takes to transform homes into masterpieces...And, she does it all at no extra cost!
Carol is so confident in her incredible talent to dramatically increase the value of properties no matter what their condition, she puts her money where her mouth is! In other words, if her client cannot afford to invest money in Carol's vision for a home makeover, she will unbelievably fund for the transformation out of her own pocket! By putting her own "skin in the game", Carol's clients have the utmost certainty in her incomparable expertise to significantly increase the value of their properties, but also improve functionality with more livable and exciting layouts. Carol's countless happy clients make MILLIONS simply by trusting her to work her makeover magic! Working with investors and developers who merely want to flip properties or individuals who count on Carol to find and transform the perfect "diamond in the rough" into their dream homes,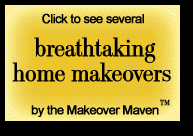 By treating every residence as her own, Carol shares her passion for perfection to go above and beyond: "I consistently strive for perfection in everything I do, including real estate. Therefore, I approach every property with a critical eye, as though it is my home and investment. I love conceiving and transforming each property, drastically improving its aesthetic value, functionality, and its ultimate selling price. Exceeding the expectations of every single one of my clients is my goal."
One of her client stated, "I was stunned. Carol put up her own money, threw herself into the renovation, and personally transformed my two-bedroom into a three bedroom, when I could not afford to. With her vision and talent, she made my dreary home into a showplace -- and made me over a million dollars more than six other brokers said it was worth. I am forever indebted to her!"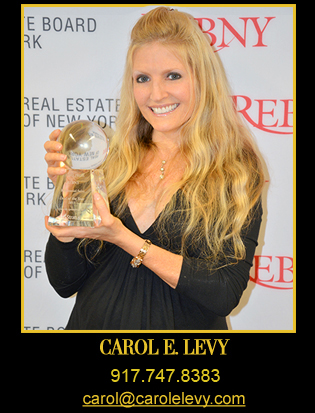 Carol is also proud to be trademarked as "The Makeover Maven™" of real estate, since she is the unparalleled master at "making over" hundreds of properties and increasing the values beyond her clients' wildest expectations! Whether the improvement involves a minor staging or a major renovation, Carol acts as the interior and exterior designer, architect, stager, general contractor's manager, owner's representative and expeditor...She does it all, and at no extra cost! Carol is truly an expert in redesigning floor plans that will increase the value of each property and also improve the quality of life with more livable and exciting layouts. Working with investors and developers who merely want to flip properties or individuals who are looking to create their dream homes, Carol loves helping her clients make money through her makeovers!
As a member of the Real Estate Board of New York, Carol cooperates with all the brokerage companies throughout the metropolitan area, both large and small, and as a result, her clients are afforded the same marketing and networking power of any large brokerage company. But, by providing unparalleled personal service and attention to the minutest details, her clients never feel lost in the shuffle or get handed over to an assistant, as so often happens at big firms.
Whether handling the sale of each residence as though it was her own home, or tirelessly searching for the right properties for her clients, and taking them step-by-step through the approval process, Carol prides herself on going the extra mile with laser-focused attention to every detail. She is an expert at marketing and a perfectionist about her advertising, holds open houses for both buyers and brokers, and her huge referral business and fiercely loyal repeat clientele are other highly regarded resources.

Furthermore, as Director of Sales for numerous sponsors, Carol has distinguished herself as the "Queen of the Sponsor Apartments" within the industry. As the exclusive broker for the sponsors, Carol's skills are unmatched in handling the entire process of pricing, renovating, and marketing the apartments, as well as analyzing and managing the total conversion of buildings into cooperatives and condominiums.

Before entering the real estate market, Carol was an accomplished actress, starring in numerous feature films, including "Alone in the Dark" opposite Martin Landau. Also, she shot over 100 national television commercials and was the Faberge Organic Shampoo Girl for several years. Her acting career proved to be invaluable to her as a broker, enabling her to hone her interpersonal skills in listening, assessing, and keenly attending to each client's needs.

Originally from Pittsburgh, Carol came to New York to attend Columbia University. She is married to the love of her life, Joel Goron, who works alongside her, and she has five extraordinary children, Chloe, Camryn, Chace, and newborn identical twin daughters, Cassidy and Carly!

Please do not hesitate to contact Carol for your present or future real estate needs, or merely a complimentary appraisal of your home. Rest assured she will set the highest standards and exceed your highest expectations.